This year A-FOLD's partnership with UED (European Design University) was realized with the development of innovative projects by students of the "Product Design" course, under the guidance of figures of excellence.
Prof. Monica Alegiani and the Head of the Department of Architecture and Design Angelo Bucci are professionals specialized in Industrial and Interior design, with a rich background in the design of smart solutions to improve everyday living environments.
Monica Alegiani is the founding designer of MAD studio, where she is personally involved in the development of new products. Her skills allow her to embrace all phases of product development: from market research to the development of the idea, through its technical implementation, up to a targeted visual communication and advertising. She boasts big names in her client roster, including Arena International.
The modular A-FOLD house is the protagonist of UED designers' projects
The revolutionary A-FOLD house responds to modern living needs and aims to promote a sustainable lifestyle and idea of tourism. A vision that inspired the young creatives of UED to plan design and functional furniture components, designed to be placed inside a A-FOLD folding house.
Below we briefly present the projects realized by the designers.
Tania D'Agostino focus on Relax and Business, with new furniture systems for clothing, which with their two-dimensionality create workspaces or replace the depth of a closet, creating additional space in the bedroom. The innovative element used as a desk in the stairwell optimally redistributes working spaces.
Riccardo Bizzarri enhances the convenience of a sustainable home with an innovative system designed for waste management outside the home.
Alessia Cipolletti has developed extremely versatile solutions to personalize the home, such as coat racks, pocket emptiers, elements for the kitchen or wall lighting.
Tonia Mininno proposes a solution to increase the space without renouncing to the furnishing components: an innovative two-seater folding bed that with its structure adapts perfectly to the spaces of the upper floor of an A-FOLD house.
Maria Teresa Parisi and Roberto Potenza have worked on sustainable, light and and resistant school spaces, with a practical cardboard module composed of seats and tables, ideal for relaxation areas or school environments that encourage sharing.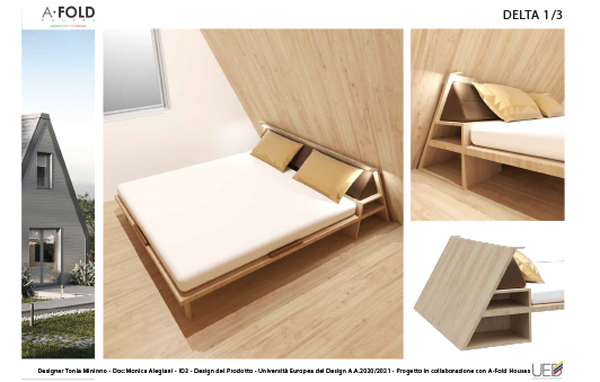 With the residential redesign conceived by Ruben Berardinelli, the spaces of a folding house can be optimized in detail, with a stairwell solution that fits perfectly between the two floors of the house.
Riccardo Centofanti and Giulia Lagrasta have reorganized the relax area with tables and integrated seating and a practical bookcase, which also harmoniously furnish the upper floor of the house.
Morena Candeloro guarantees the optimization of the bedroom thanks to a closet that develops in height and acts as a partition between the rooms.
Anna Poppi designed versatile seats (seat, bench and chaise longue) that adapt to the different needs of space sharing.
A special thanks to UED for this prestigious opportunity.