The exclusive A-FOLD prefabricated house construction system
Compared to the past, the wood is much more often chosen as a material for prefabricated houses construction mainly because of its functional characteristics, aesthetic value and the great contribution to CO2 emissions reduction.
At A-FOLD, wood is the protagonist of the construction systems. A-FOLD designs and builds prefabricated or modular wooden houses using highly standardised and patented systems. With a standardised production process and dry assembly structure, we can guarantee several advantages in terms of economy and construction time, while always paying attention to the well-being of the environment and biodiversity. The woods, used for the construction of both prefabricated houses models, is made of a mineral fibre that is ideal for wall insulation due to its excellent thermal conductivity, vapour permeability and sound insulation characteristics.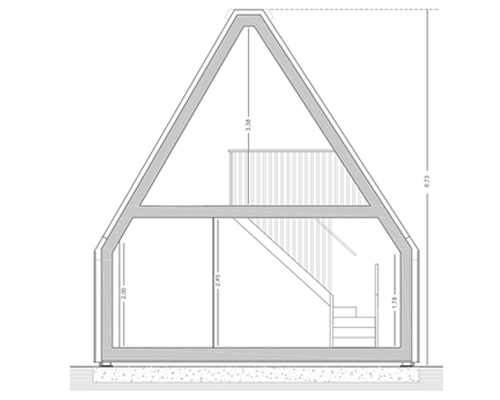 Prefabricated houses construction: a complex process made simple by our higly qualified staff
The A-FOLD team of professionals is the driving force behind the production process of modular wooden houses. The combination of different specific skills fosters a synergy between the parties, meeting the most demanding customer requirements.
In particular, the prefabricated houses construction consists of several stages:

Design:
we design the modular wooden houses in Italy in detail, after understanding your housing needs.

Production:
we actually build the modular wooden homes in our own factories, using top quality materials and technologies.

Fast delivery and installation:
we send a local distributor to the site to coordinate the foundations, delivery and installation.
A-FOLD technicians offer constant customer support through all stages of the prefabricated houses construction process in order to make sure that the modular wooden house built is up to the customer's expectations.